Our team had a great time this past week in San Francisco for the 39th Annual SIIA (Self-Insurance Institute of America) National Educational Conference & Expo.
The well attended SIIA conference is the convergence of ideas that support an employers' advantages of being self-insured. The self-insured approach is often the direction employers take to manage their hefty medical spending.
This was our first time attending the SIIA Conference, and we were impressed by the number of influential speakers and thinkers in attendance. We loved meeting so many passionate individuals and attending educational sessions throughout the conference. It was also nice to escape the Austin heat and enjoy some cooler temperatures.
We noticed a few trending topics being discussed and wanted to share our key takeaways for those who didn't make it this year:
Kim Evans, President & CEO - Reference Based Pricing & Balance Billing
Reference Based Pricing (RBP) is a very competitive space, as evidenced by the numerous vendors and sessions at SIIA2019. As RBP has become a more commonplace strategy, hospitals are now mounting a response. The current iteration of RBP is essentially version 1.0 and it's beginning to show some cracks. It is now time to develop a more targeted approach for RBP to evolve to version 2.0.
Steven Cutbirth, Director of Marketing – Value Based Care & Health Outcomes
Value-Based Health Care (VBHC), defined by Elizabeth Teisberg as "health care that improves the outcomes that matter most to individuals and their families at an appropriate cost," is not going anywhere. VBHC continued to be a key topic at SIIA2019 as all stakeholders are very interested in steering their members to providers offering the highest value care possible.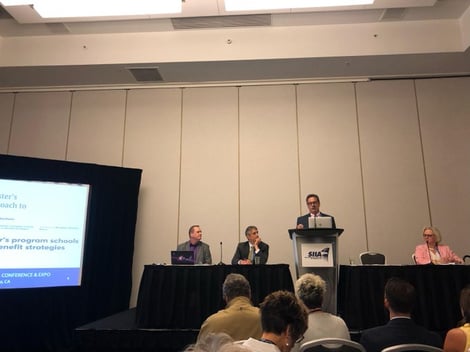 I attended a great session on the importance of measuring health outcomes and shared a few posts from the session on LinkedIn here. If you are interested in seeing the full session slides, send me a note on LinkedIn, and I'll send them your way.
Allen Saunders, VP of Business Development – Healthcare Concierge Services
At SIIA Third Party Administrators, Brokers and healthcare thought leaders get it right, by coming together to share ideas on how to bring solutions like a Healthcare Concierge for example, to the groups of people that need it the most. Tools like navigation, make up a suite of solutions that help to form a tangible means of support to users that are working through a messy healthcare system.
As a member, I can reach out directly to my own personal "advocate" who will help me not only locate a provider but help me identify pricing that is fair and consistent for that type of care. By offering this service to a population, the employer not only stands to gain happy employees but also reap the financial gains of having had their employees elect the right provider and the right price. Best of all, there is someone else available to do the heavy lifting.
There are resources available through a Healthcare concierge that makes it easy for an employer to integrate multiple vendors who provide support for a population's ancillary plans, drug cost, access to rightly priced surgery, direct primary care, telemedicine, general healthcare education, you name it! And to top it off, often, these solutions can be sourced through one app or one phone number for ease of access to the member. Not all solutions are created equally, some certainly do it better than others, and there appears to be a wide range of pricing to suit an employer's needs and budget ($1-$25 per employee).
These key takeaways are important as self-insured employers identify the right healthcare benefits package for their employees. Based on how educational the SIIA conference was, we will be attending next year!
If you have additional questions on these topics, feel free to contact us or set up an intro call: